A1-C2: How good is your German?
Free language tests and the definition of proficiency levels
A German version of this article is available as well.
This article is about the proficiency levels A1-C2: I explain how they are defined, show you two free placement tests and explain which content belongs to each level.
What are proficiency levels?
You have probably seen proficiency level on textbooks, in language courses or as a requirement for applications (e.g. at a German university). There are six different proficiency levels (A1, A2, B1, B2, B2, C1, and C2), which have been defined on a European level (CEFR). Consequently, these language levels exist not only for German, but also for all other European languages.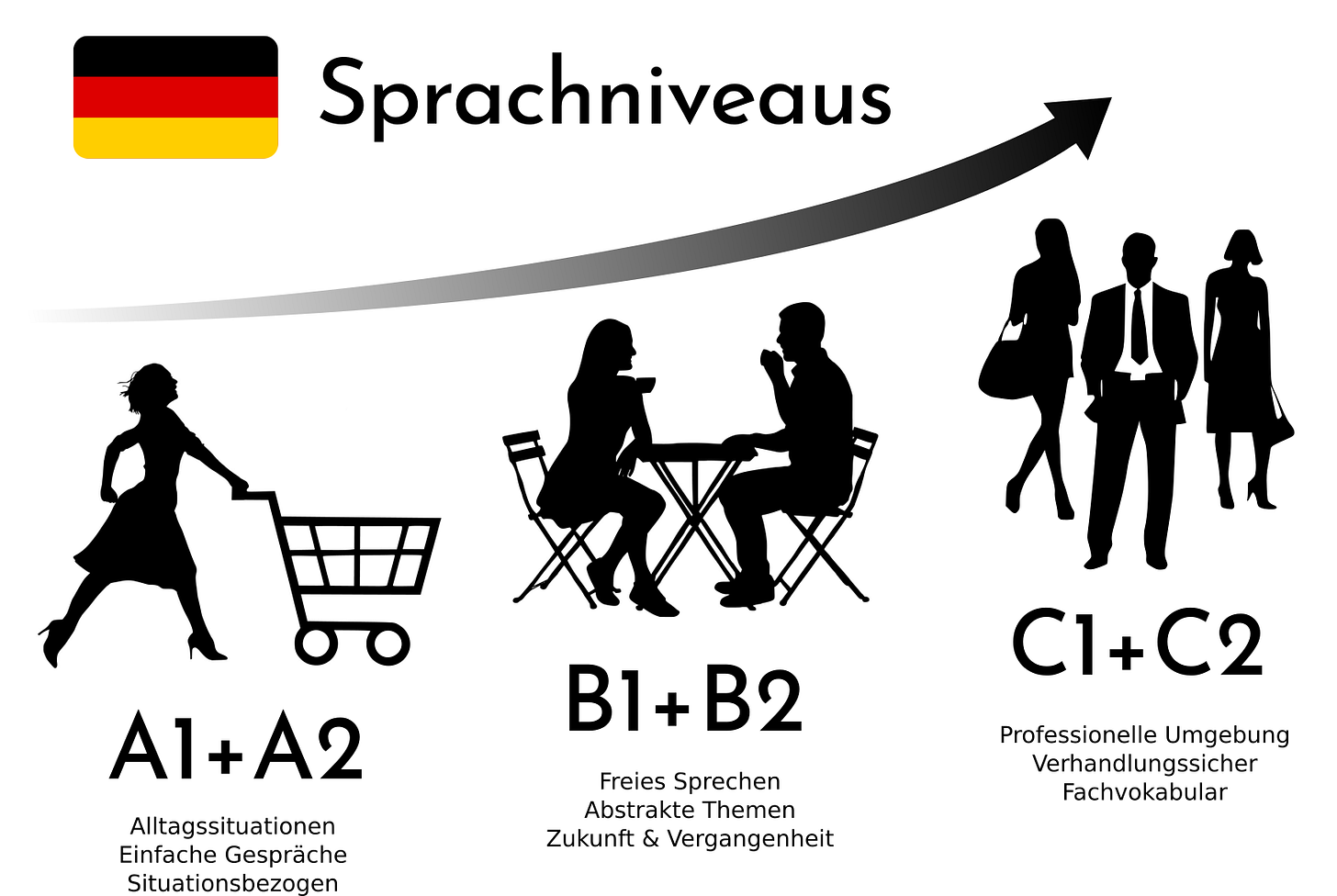 Figure: The proficiency levels A1-C2 encompass grammar, vocabulary, listening and text comprehension and speaking skills, and are defined via "Can-Descriptions".
How can you test your proficiency level for free?
How well do you speak German? It is extremely useful to know your own proficiency level! To learn German efficiently, your learning material (books, courses, content) should be exactly one level above your current proficiency level. If you have mastered level B1, then books, courses and contents with level B2 are optimally suited to your situation!
To (roughly) determine your own level, I can recommend two free placement tests:
sprachentest.de: The test takes about 15 minutes and tests your text and listening comprehension on levels A1 to C1. To get your result, you have to enter your email-address at the end of the test. You will receive a certificate as a printable pdf-file. The test was developed by the publisher Spotlight and you will receive ads for the language magazine "Deutsch Perfekt" via email - but you can unsubscribe later. It's a bit of a pity that the test shows A1 even if you got all answers wrong, and "only" shows C1 if you entered everything correctly.
Klett-Verlag: This questionnaire also tests listening and text comprehension at the language levels A1 to C1. You can skip your email address. The test takes a little longer (approx. 30 minutes), but is a lot of fun and tests vocabulary and text production. Your proficiency level is displayed directly on the website after finishing the test. You will receive a detailed description of the given and correct answers by email, but unfortunately no shiny pdf-file.
Figure: Screenshot of the online forms of sprachtest.de (left) and Klett Verlag (right), as well as the pdf-certificate of sprachtest.de (center, small)
When repeating the tests I noticed that both tests re-utilize the same selection of questions, meaning that they do not adapt to your language skills. This means that you might have to skip questions that are too difficult for you. Unfortunately I couldn't find a good adaptive test for German - a great adaptive test for English language skills is the EF Set Test!
❗ Attention: The free online tests do not replace official certificates! If you want to apply to a German university, for example, you have to take a fee-based test. The most important certificates for German are the TestDaF, DSH, Goethe-Zertifikat and telc.
Definition of the proficiency levels
The individual levels are defined by the European Framework of Reference using so-called "Can-Descriptions". They indicate which situations can be mastered with the respective language level and thus automatically include listening and text comprehension, vocabulary and language skills. For example, the definition of level B1 states: "Can deal with most situations likely to arise while travelling in an area where the language is spoken."
The definition of the levels contains no clear requirements about grammar or vocabulary for a particular level (whereas vocabulary lists e.g. for the Chinese HSK-Test are quite common). Every teacher (and textbook publisher!) can theoretically decide for himself what he teaches at the respective language level.
I have worked with many textbooks, and summarize in the following list which learning contents are usually classified into the respective language level:
A1: Your start! 👶
Grammar: Präsens (ich gehe, du gehst, …), Perfekt (sie ist gegangen), Personalpronomen (ich, du, …), Genus (der, die das), Possessivartikel (mein, dein, …), Akkusativ (ich sehe dich), Dativ (ich gebe dem Mann das Geld)
Vocabulary: The Goethe-Institut provides a vocabulary list for the Goethe-Zertifikat A1. This can serve you as orientation.
Example sentences: Here are three sentences that you can form and use (in conversation or written texts) with the A1 level (🎧 Audio):
Ich gehe einkaufen.

Gestern habe ich einen Apfel gegessen.

Ich habe meine Oma besucht.
A2: Solid basic knowledge 🧒
Grammar: Präteritum (ich lachte), Plusquamperfekt (sie hatte gesehen), Futur I (wir werden umziehen), Konjunktiv II (ich würde versuchen), Kausal-Nebensätze (…, weil es regnet), dass-Nebensätze (Ich denke, dass es funktioniert), Konditional-Nebensätze (Wenn… dann…), Pronomialadverben (ich ärgere mich darüber), Genitiv (das Bein des Mannes)
Vocabulary: The Goethe-Institut provides a vocabulary list for the Goethe-Zertifikat A2. This can serve you as orientation.
Example sentences (🎧 Audio):
Nachdem ich einen Apfel gegessen hatte, war ich glücklich.

Ich würde gerne umziehen, weil meine Wohnung zu klein ist.

Ein Geschenk? Darüber freue ich mich sehr!
B1: Enough for a trip! ✈
Grammar: lokale Präpositionen (an, auf, neben, hinter, …), temporale Präpositionen (um, ab, während, zwischen, …), temporale Nebensätze (Während sie kocht, …), Relativsätze (Der Stuhl, der in der Ecke steht, …), Adjektivdeklination (mit kühlem Wasser), Passiv (das Haus wird gebaut)
Vocabulary: The Goethe-Institut provides a vocabulary list for the Goethe-Zertifikat B1. This can serve you as orientation.
Example sentences (🎧 Audio):
Das Haus, das neben der Grundschule gebaut wird, wird mit Sicherheit sehr schön!

Während ich den leckeren Kuchenteig machte, kümmerte sich Paula um die runde Backform.
B2: The difficult part is done! ⛰
The leap from B1 to B2 is especially big! Keep going to reach B2! You learn many more ways to express yourself in German and build on all the previous content. This level is mainly about sentence constructions and prepositions. You will also learn many new words!
Grammar: Wortstellung in einem Satz (Gestern überreichte Paul dem Mädchen die Blumen.), Präpositionen mit bestimmtem Kasus (wegen des schlechten Wetters, mit einer Freundin, ohne meine Mutter), Adverbiale Nebensätze (Obwohl es regnete, waren viele Menschen im Park), Infinitvsätze mit "zu" (Ich gehe arbeiten, um Geld zu verdienen.)
Vocabulary: The vocabulary list of the textbook Aspekte can give you an idea of the amount and level of vocabulary you need.
Example sentences (🎧 Audio):
Trotz des Regens gefiel mir das Open-Air-Konzert gut.

Wegen der schönen Blumen gefällt mir die Insel Mainau im Bodensee sehr gut!

Obwohl ich zugeben muss, dass Peter Recht hat, denke ich, dass die Ursachen noch besser untersucht werden müssen.
C1: Almost there! 👨‍🎓
Grammar: Passiversatzformen (Die Gefahr ist nicht zu unterschätzen), indirekte Rede und Konjunktiv I (er sagt, sie wolle ihn anrufen), Verbalisierung und Nominalisierung (Nach Überprüfung von… / …nachdem es überprüft wurde)
Vocabulary: The vocabulary list of the textbook Aspekte can give you an idea of the amount and level of vocabulary you need.
Example sentences (🎧 Audio):
Nach langanhaltendem Debattieren wurde klar, dass das Problem nicht so leicht gelöst werden kann.

Man sollte sich klar machen, dass die Verlockungen nicht klein geredet werden dürfen.
C2: Excellent German!🎉
Level C2 contains hardly any new content for grammar and vocabulary. Instead, its all about using your language skills even more precisely to speak about opinions and feelings in a differentiated way. You can recognize subtle differences in meaning, and interpret texts from different sources with confidence. This level of language proficiency thus corresponds to that of an academic native speaker.
Grammar: Präfixe von Verben und Adjektiven (lesen, vorlesen, erlesen, verlesen, …)
Vocabulary: All German words and sentences can be understood and used, including neologisms, (altered) idioms and loanwords (e.g. Anglicisms)
Example sentences (🎧 Audio):
Nachdem man des Öfteren gehört hat, dass es in den letzten Tagen zu Ausschreitungen kam, wird es einen wohl kaum wundern, dass auch in dieser eigentlich ruhigen Nacht die Demonstranten laut und deutlich zu hören waren.

Wie kam es zu einer so starken Diskrepanz zwischen den Beteiligten? Man müsse sich mal vor Augen halten, sagte Herr Jansen im Interview, dass die Kompromissbereitschaft bei beiden Parteien unterschiedlicher nicht hätten sein können. Trotzdem möchte er weiterhin klare Kante zeigen.
Ok, enough for today! I'm looking forward to your questions and comments in the facebook group! See you next time! 👋
Rebecca
---
About me 👩‍🏫
I am Rebecca, an enthusiastic language coach since 2016. I love learning languages, and help other people learn them! As a Duolingo Global Ambassador, I regularly host online-events for German, currently exclusively online. I'm also available as private tutor via preply.
Community 🌍
Stay up to date about the events in my facebook-group! This is also the right place for questions and answers about the German language!
Newsletter 💌
With this newsletter, I want to offer material and ideas to everyone who is in the process of learning German. It will contain explanations of grammar and vocabulary, but also information about German culture and proverbs. For advanced topics, I'll write the newsletter in German, so you can exercise reading German texts. I hope to publish at least once a week.
---